Safe Childbirth. Everytime. Everywhere
The 294-pages handbook is divided into 26 chapters, covering the spectrum of obstetric and labour ward emergencies. Of special mention are topics on non-technical skills such as team management, quality and safety, communication and transfer, and conduct of drills.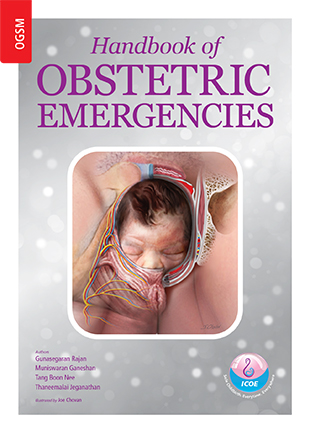 10 videos produced exclusively by ICOE
From operative know-how to Covid-19 updates
Listen to our experts!
The Intensive Course in Obstetric Emergencies (ICOE) is a simulation and skills-based course designed by the Obstetrical and Gynaecological Society of Malaysia (OGSM) since 2014. The course is dedicated to training doctors and midwives in confidently managing maternity emergencies both locally and regionally.
The typical two-day course consists of 12 short lectures and 8 practical breakout sessions using simulation models of various fidelity.
Secretariat
OBSTETRICAL AND GYNAECOLOGICAL SOCIETY OF MALAYSIA
Suite A-05-10, Plaza Mont Kiara,
No.2, Jalan Kiara, Mont Kiara,
50480 Kuala Lumpur,
MALAYSIA
Tel: +603-6201 3009
Fax: +603-6201 7009
Email: icoe@ogsm.org.my
CONTACT US FOR ANY QUESTIONS
Why should you attend ICOE?
Customised, comprehensive course adapted to local / regional practice.
To improve competency and skills in obstetrics emergencies.
For hospital credentialling/privileging
To mitigate medico-legal issues.
Who should attend ICOE?
Every doctor and midwife involved in the management of obstetric patients.
Benefits of attending ICOE?
Improve clinical skills
Networking with Health Care Professionals
Share experiences with colleagues.
Is there any onsite ICOE courses in 2021?
At the moment, there are no plans for any onsite ICOE courses for 2021. This adheres to the directive from the Majlis Keselamatan Negara for Covid-19. On-site courses will resume once there is lifting of restrictions from the MKN.
What are the courses that I can join if there is no on-site ICOE course?
You may join the ICOE 'Certification in Obstetric Emergencies'. This course is specifically designed for busy obstetricians and trainees who wish to enhance their skills with objectives to achieve and maintain standards in obstetric emergencies especially during this pandemic.
What does registration of 'ICOE Certification in Obstetric Emergencies'include?
Registration includes e-handbook worth RM140 and online course materials and videos
Are there any assesment for the course?
Yes. For the ICOE Certification in Obstetric Emergencies, there will be one day hands-on skills training and assessment held in Klang Valley for now.
If I am not practicing in Malaysia can I attend?
Yes. You may attend the course if you are a practicing doctor/midwife in your country.
How/When do I get my certificate?
You will receive the certificate via email after completion of the course.
How do I receive confirmation that I can attend the course?
Confirmation will only be given after the receipt of full payment of course fee. If the course participants exceed the maximum number, you may be allocated to the next available course or a refund will be arranged.
Will you accept cancellation?
If you cancel 30 days or more before the course, a full refund will be returned; thereafter the course fee of 50% will be refunded if it is within 14 days of the course. You may also defer the course to the next available date.
How long is my certificate valid?
All certificates are valid for 3 years.
Do I get CME points?
Yes, you are entitled for 10 CPD points per module (in Malaysia) ie you obtain 30 CPD points if you complete the course
What is the pre-requisite to be an ICOE trainer?
Must be currently registered as doctor/midwife
Actively practicing obstetrics
Attended a full ICOE course in the last 2 years.
Why be an ICOE trainer?
Improve your skills by teaching
Provide skills/ training in resource limited countries
Interact with other regional trainers
Are there any other courses organized by ICOE that I can attend?
Yes. There is other course such as ICOE online CTG course, Workshop on complicated caesarean section and Webinar series by experienced local / international speakers. Please refer to the ICOE website for more information on the upcoming courses.